Core Cleaning Services
Elena's provides cleaning services for homes, businesses, offices, construction areas, on a recurring or one-time basis. We can clean on weekly, semi-weekly, or monthly schedule, or can clean when you move in or move out. No job is too small or too large.
Core cleaning services are those we consider essential to a cleanly space, and include:
Complete vacuuming including edging of carpets
Dusting throughout including all window sills and light fixtures
Removing cobwebs
Thorough cleaning of bathrooms and kitchens
Cleaning mirrors
Wiping all woodwork and baseboards throughout the home
Cleaning glass deck and patio doors, as well as glass panels in or next to the entry
Vacuuming or dusting blinds
Conducting a three-step process for cleaning hardwood floors: Vacuuming, damp mopping, and dry mopping
Emptying wastebaskets, including kitchen refuse
Making all beds and changing bed linens as necessary
Supplementary Services
Supplementary services are tasks that should be performed regulary, but perhaps not every time. We can perform these on request:
Vacuuming drapes
Vacuuming upholstered furniture
Cleaning ovens and refrigerators
Polishing furniture
Organizing cabinets, rooms, closets
Thorough window cleaning, inside and outside
Frequently Asked Questions
What areas do you service?
We service pretty much all of the greater Portland metro region, and are certainly willing to work with anyone who might be on the border. Just give us a call!
How much do you charge?
It depends on the job, as different residences have different needs. Naturally, bigger houses tend to require more work, so cost more. Some smaller homes can be thoroughly cleaned for as little as $70 per week.
I have pets - is that OK?
We love pets! But we understand your concern: after all, pets can get underfoot during cleaning. If you have pets, for their safety we ask that you prevent them from entering the areas that we clean. For sanitary and safety reasons our teams are not permitted to clean flea-infested homes or pick up animal excrement.
What training & expertise do you have?
All of our cleaning professionals have undergone training and are fully bonded and insured. Many have been professionally cleaning for 5-to-10 years. New cleaning professionals "double up" with a seasoned trainer to ensure the highest-quality work.
What is your guarantee?
If you are ever unhappy with any area we've cleaned, we'll return the next day and reclean the area to your satisfaction.
About Elena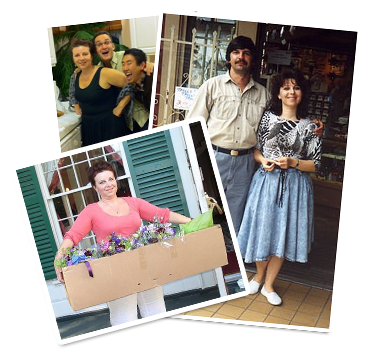 Hello! My name is Elena Komissarova. I'm delighted to introduce my small company, which helps people live happy lives in their clean and comfortable homes. Back in the Soviet Union I trained and worked as a high school teacher, educating students in Russian and literature. When my family immigrated to America in 1992, the only job I could get with limited English skills was cleaning hotels and houses. It turns out that that I had a talent for cleaning! I really love creating beauty and comfort in my surroundings.
Today I employ the type of women that I was then - those that have a a talent for cleaning and are responsible for the financial livelihood of their families. Everyone in the company is part of the same community, and we have all known each other for many years.
We will be happy to help you maintain a clean, comfortable, and loving home! Call us or write to us; we are flexible and can meet any schedule or special need. Our rates are flexible, and we are willing to negotiate with you. We will focus on bringing happiness to everyone in your household—including your budget!
Call today for a free estimate: 503.481.3005